Smirnov Outing Club | Weekly - all issues | Write to us
Issue 115. POCAR-2005. January 17-19, 2005. Russian (KOI8-R)
From POCAR
And to POCAR
Play and play
My nobble guitar!
(An anthem attempt)
The POCAR is a 30-50 mile trail race done in teams over two days. The race takes place in Southern Indiana during the Martin Luther King Day weekend (January 19-21). Read the official packet for more information.
Kevin M. Baldauf, Feb. 1 of 2005, Subject: POCAR results: Just wanted to send out the official results for POCAR 2005. Congratulations to all of the teams who competed in this years race. Thanks for coming out.
For the open division the winning team was Russo Turisto: Dmitry Lavrov, Alexandra Makarova, Alexander Markoff, Vladimir Kelman, Andrey Shlyakhtenko, and Michael Sogonov.
Second place was The Same Ones: Lev Gorenstein, Artem Kazantsev, Vadim Uchitel, and Yury Voronov.
Third place was Team Sheltowee: Ryan Haganesee, Dale Jackson, Greg Perry, and Kyle Weyers.
For the Collegiate Division the winning team was 10 Boobs and no Bob: Natalie Anderson, Leslie Asher, Arianna Mckeown, Darchelle Rueden, and Julie Vargo.
Thanks for your participation in this years race and we hope to see you all next year.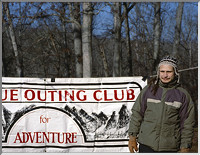 Vladimir Kelman, Jan. 26 of 2005: Sorry guys, I don't have time now to write a long story. Sooner or later it will be here, though. For now just enjoy first POCAR-2005 pictures shot by superb medium format rangefinder Fuji GA645ZI camera.

Your comments:
---