---
Vladimir Smirnov memorial pass (~3345 m, 1A)

We decided to name this pass in the memory of Vladimir Smirnov, our friend and founder of Smirnov Outing Club. Vladimir, his fiancee Irina Libova and Ilya Krasik tragically lost their lives on the slopes of Mt. Orizaba in Mexico on December 28, 1999.

On the pass we have set a stone caern with the note in Russian and in English. The pass overviews the mighty Gannett Peak that I climbed together with Vladimir and Irina in 1997.
The pass is located in the Western ridge of Desolation Peak and connects the valley of Wells Creek (Scott Lake and Many Bug Lake) with the valley of Tourist Creek.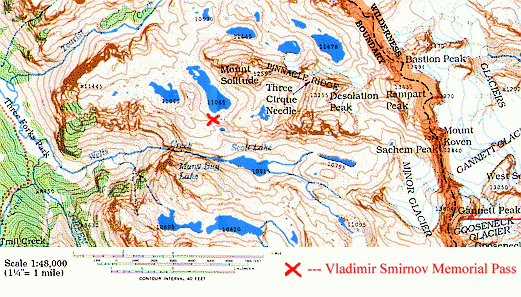 A larger map fragment is located here (247 Kb), or a fragment with higher scanning resolution is here (870 Kb).

The pass is quite simple and relatively low, and in our opinion it is a very convenient escape route from Mammoth Glacier to Green River Lakes. The alternative route (following Wells Creek all the way down to Green River) involves scaling the drop-off cliffs along Many Bug Lakes and very steep canyon below Many Bugs Lake. Crowding of the contour lines on the map suggests that this canyon will undoubtedly be a very serious obstacle, especialy at times of high creek level.

Vladimir Smirnov memorial pass allows climbers to overcome this obstacle easily. The altitude difference between the saddle and Scott Lake is about 600 ft. Follow the grassy shelves from Scott lake, then head North-West along the valley of dry stony creek, and finally turn straight North and ascend the crest of the saddle right above a tiny beautiful lake.

About hundred yards to the North from the pass (that is already in the Tourist Creek valley) there lies a beautiful lake 11085 ft. From a camp there one can make ascents on Mt. Solitude, Desolation Peak (with possible traverses to Rampart and Bastion peaks in the Continental Divide). Or one can simply enjoy the beauty of a nearby Three Needles Cirque.

Descend towards Tourist Creek is quite pleasant. It is moderately steep and fast-dropping along mixed rock/grass slopes. One encounters some difficulties along the Tourist Creek itself (there is no a trail, but instead there is a lot of large-scale morraines, as well as some bushwacking). Despite this, for a descending party this route will be a relatively easy hike (unlike climbing the pass in the opposite direction).

Overall we rank the pass as 1A complexity on the Russian classification or class 3-4 on the American rock climbing scale (of course this is without the canyon on Wells Creek, which would complicate things significantly). The following are some pictures taken from the pass. One can see the caern that we constructed.
| | | |
| --- | --- | --- |
| The view of Western slopes of Gannett Peak from the pass. On the foreground to the left rises the ridge of Desolation Peak | The view of Mt. Whitecap from the pass | The view of Mt. Solitude from the pass. On the right the sun shines on the ascent path to Three Needles Cirque. |